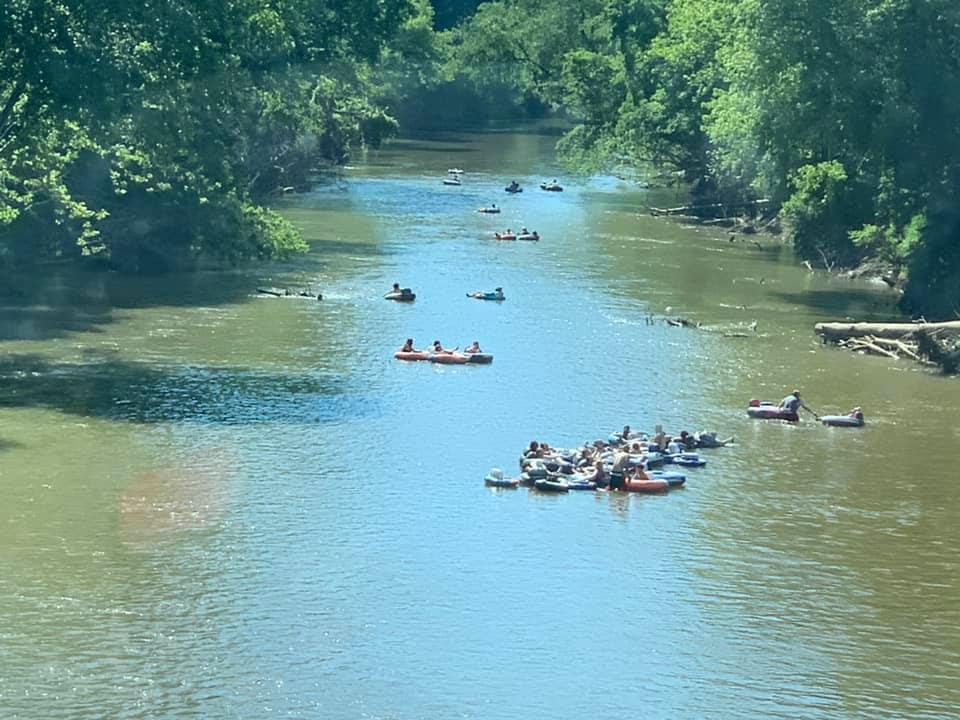 Ready to start your adventure?
We can shuttle up to 30 passengers for each reservation. The shuttle runs every 30 minutes beginning at 10:00am. The last shuttle runs at 2:00pm.
River Trip Information:
You will park your car at the 704 access. We will shuttle you to the put in at Lindsay Bridge. The trip is about 2 1/2 to 3 hours long. Please be aware of the river debris (fallen trees, rocks, and snags) that can puncture your tube. At the end of your trip, you will need to look for the following marks. You will pass beside a stone column (river right) followed by a sand bar. Once you pass these 2 marks, be looking for a metal staircase located river left before the 704 bridge. This is the 704 access where you will need to take out. There will also be a member of our staff to assist you out of the river.
Rental Policy
When you reserve/ book a river adventure you are renting equipment from MadTown Tubing. You are responsible for the equipment until it is returned to us. Equipment may include: tubes, coolers, kayaks, paddles or personal flotation devices (life vest). In the rare event a tube is punctured and deflates, it is your responsibility to retain the tube and return it to us. We understand that accidents happen and that the river is unpredictable. Damage to the equipment due to negligence, cigarettes, tied together tubes, or sharp objects will be billed to the individual accordingly. Customers are responsible for getting the equipment out of the river and back to MadTown Tubing.
Equipment left in the river that floats downstream is considered lost and the customer will be billed accordingly.
---